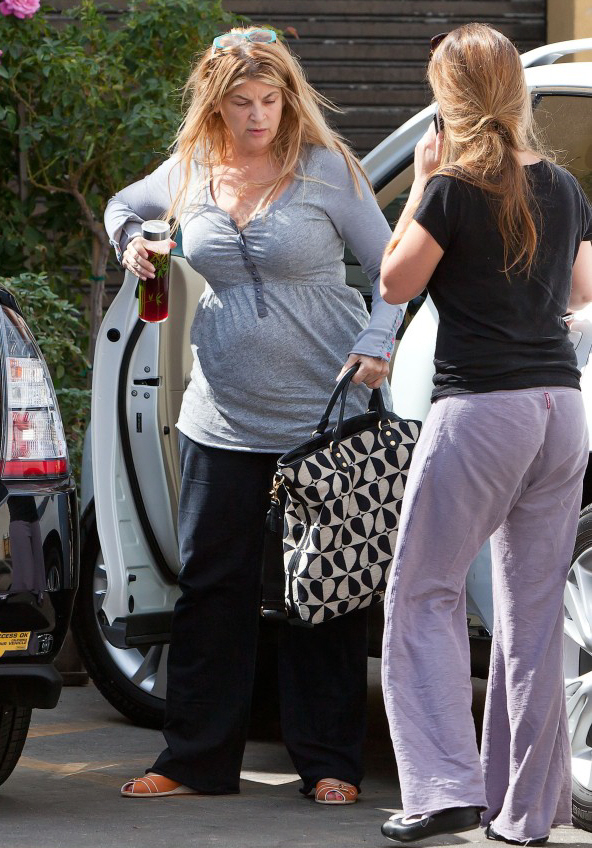 It's the only way to explain how your favorite Scientology nut could have lost 50 pounds - - I can buy that she's losing brain cells. Of course that also means I must concede that she had them to begin with.
Earlier this week, Kirstie took to her favorite medium - - no,not the local Krispy Kreme, but Twitter - - and lied her ass off (no, not literally or else it may have been true) that she had lost 50 pounds on her Scientology weight loss bullshit. I think we all realize by now that Kirstie claiming to lose weight is like the little boy who cried wolf, only she goes on Oprah and photoshops pics to perpetuate her fraud.
So the above pictures were also taken this week and I think it's pretty clear that Kirstie didn't lose 50 pounds of anything except maybe shampoo and hairbrushes. Homegirl also desperately needs a stylist. Maybe she and fellow Scieno-tool Katie Holmes can get a two-fer deal?
Hey, Kirstie, maybe if you wash your hair more than once a month, you won't have that grease on your head weighing you down. (Yes, Kirstie claimed once to only wash her hair once a month). Those crazy Scientologists!
Here's a legitimate question though - - why bother lying about weight loss when you know the media is going to be snapping pics of you? Just to get in the press? Just to get the title "lying liar who lies"?
It's a mystery.